Gunakan Jarum, Sejumlah Ilmuwan Membuat Mikroskop 3D – CALIFORNIA– Sejumlah ilmuwan mengklaim berhasil membuat mikroskop berkualitas tinggi dengan jarum seharga USD40. Para ilmuwan asal University of Utah itu mendesain mikroskop dengan kemampuan menghasilkan gambar 3D miniatur.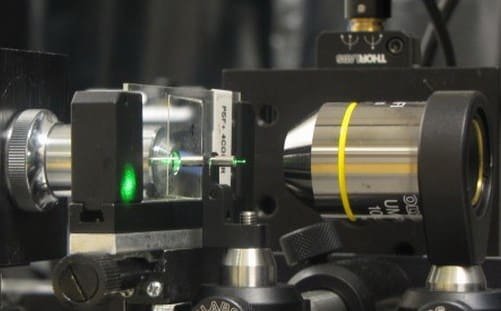 Seperti dilansir Gizmag, Jumat (15/8/2014), mikroskop ini dapat memproduksi gambar 70 kali lipat lebih kecil dibandingkan tebal rambut manusia. Terobosan ini bisa membawa objek-objek penelitian baru terkait protein dalam fungsi otak. 

"Kami bisa mendapatkan gambar resolusi 1 mikron dengan hanya USD250 ribu dan mikroskop tinggi yang dapat menghasilkan gambar itu. Mikroskop miniatur terbatas pada beberapa puluh mikron," ungkap Rajesh Menon, asosiasi profesor elektrik dan insinyur komputer di University of Utah. 

Bekerja dengan peneliti Ganghun Kim, Menon mengungkap metode mikroskop yang memungkinkan cahaya melewati jarum serat optik atau cannula. Sang peneliti menjelaskan, cahaya dari sebuah benda bisa memasuki salah satu ujung cannula, lalu memantul di sekitarnya sebelum keluar di ujung yang lain. 

Hal ini bisa memunculkan gambar awal yang belum berbentuk atau masih acak. Untuk membentuk objek yang sesungguhnya, peneliti bisa mendesain algoritma khusus. 

"Jika kami tahu bagaimana hal ini bisa terjadi, kami akan menerapkan algoritma untuk menguraikannya dan mengestimasi seperti apa bentuk objek tersebut," tutur Menon. 

Para peneliti menggunakan mikroskop ini untuk mempelajari otak tikus hidup. Mereka ingin mendapatkan pemahaman yang lebih baik terkait bagaimana protein tertentu bereaksi terhadap berbagai rangsangan.

Menon mengatakan, teknik ini akan memungkinkan para ilmuwan untuk mengumpulkan gambar yang jauh lebih kecil dari yang ada saat ini. Biaya untuk pembuatan inovasi mikroskop 3D ini juga tergolong murah.
Sumber : okezone.com