Nih, 5 Ponsel Tahan Air dan Banjir – Kondisi hujan dan banjir yang masih terjadi cukup merepotkan dalam menjaga ponsel. Basah, lalu rusak dan mati total tentu paling dihindari. Menaruh di dalam plastik jadi cara termudah agar tak terpapar air, walau kadang kita tak bisa menebak peristiwa tak terduga. Plastik bolong, jatuh ke dalam banjir, dan lain-lain.
Kalau mau aman, pakai saja ponsel tahan air. Android generasi baru sudah banyak yang membungkus produknya dengan keunggulan ini. Misalnya 5 merk berikut.
1. Caterpillar CAT B100Mampu tetap berfungsi meski jatuh dari ketinggian 1,8 meter dan bertahan di suhu minus 25 derajat celcius. Terbayangkan sudah bagaimana kekokohan ponsel ini. Selain tahan banting, Caterpillar CAT B100 juga anti air.
Ponsel ini akan tetap menyala meski terendam air di kedalaman satu meter selama setengah jam. Miliki waktu bicara 30 jam dengan standby 23 hari. Dirilis pada eksibisi tahunan CES beberapa waktu lalu di Las Vegas, Amerika Serikat, belum terkuak harga yang dibanderol untuk ponsel ini.
2. Sony Xperia ZDibalut dengan sertifikasi IP55 dan IP57, Sony Xperia Z miliki keunggulan tahan debu dan air. Bilamana terendam di air tawar sedalam satu meter selama 30 menit, ponsel ini tetap mampu bertahan.
Berdapur pacu prosesor quad-core 1.5GHz Snapdragon S4 dengan RAM 2GB dan mengusung sistem operasi Android 4.1 Jelly Bean (upgradeable 4.2), Sony Xperia Z dibanderol cukup mahal di harga Rp 7,5 juta.
3. Sony Xperia Z1Telah bersertifikat IP55 dan IP58 yang membuatnya juga tahan debu dan air. Mampu bertahan selama 30 menit bila terendam di air tawar dengan kedalaman maksimal 1,5 meter. Cukup tangguh dibanding model sebelumnya Sony Xperia Z.
Sony Xperia Z1 mengusung layar terbentang 5 inch Full HD Triluminos. Casing full alumuniun dan dipersenjatai prosesor Qualcomm Snapdragon 800 quad core 2,2 Ghz, RAM 2GB, dan internal memori 16GB yang bisa diperluas dengan microSD up to 64GB. Harga Rp 8,4 juta.
4. Sony Xperia Z UltraSama dengan dua model Sony Xperia sebelumnya namun mengusung bentangan layar lebih lebar 6,4 inch. Mampu bertahan di kedalaman maksimal 1,5 meter selama 30 menit untuk jenis air tawar.
Xperia Z Ultra miliki bentangan layar Full HD 1080 piksel, memori internal 16GB yang bisa diperluas dengan microSD up to 64GB. Mengusung kamera utama 8 mega piksel dengan 11 jam waktu bicara serta 120 jam non stop memutar musik. Harga Rp 7,5 juta.
5. Samsung Galaxy S4 versi Active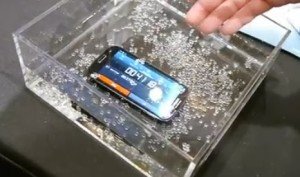 Varian turunan dari Samsung Galaxy S4 dengan kemampuan tahan debu serta air. Miliki sertifikat standar ketahanan internasional IP67 yang memungkinkan smartphone ini diajak menyelam hingga kedalaman maksimal 1,5 meter selama 30 menit.Samsung Galaxy S4 versi Active miliki bentangan layar 5 inch Super AMOLED Full-HD 1920 x 1080 piksel dengan prosesor quad-core 1,9GHz dan RAM 2GB. Untuk memori internal berkapasitas 16GB dan baterai 2.600 mAh.